---
Subscribe to my newsletter and get your FREE novella, just tell me where to send it.
---
About James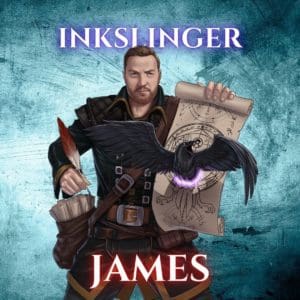 Hey all, my name is James Hunter and I'm a writer, among other things. So just a little about me: I'm a former Marine Corps Sergeant, combat veteran, and pirate hunter (seriously). I'm also a member of The Royal Order of the Shellback—'cause that's a real thing. I've also been a missionary and international aid worker in Bangkok, Thailand. And, a space-ship captain, can't forget that.
Okay … the last one is only in my imagination.
Currently, I'm a stay at home Dad—taking care of my two kids—while also writing full time, making up absurd stories that I hope people will continue to buy. When I'm not working, writing, or spending time with family, I occasionally eat and sleep.
---
Viridian Gate Archives
---
LitRPG books combine tropes and themes from role-playing games with sci-fi and fantasy elements to tell a unique story that's exciting and super-relevant to today's world. Jack's adventures in a cutthroat virtual reality fantasy world will grip fans of Ready Player One and The Stormlight Archive alike. With over 200,000 copies sold, this is one series you don't want to miss!
---
---
Viridian Gate Online EXPANDed Universe
---
Ten novels! Four different series! Over 1 million words of content! Welcome to Viridian Gate Online, the biggest Expanded Universe in LitRPG! Follow different characters, earn different classes, and embark on new epic story lines in The Illusionist, The Firebrand, The Alchemic Weaponeer, and The Artificer!
---
---
Vigil bound
---
Magic weapons. Deadly monsters. Epic quests. All just another day in the life of a Vigil.
---
---
Rogue Dungeon Series
---
"An excellent start to a series, this book has everything I look for in a fantasy novel: action, intrigue, and evolution!"
Dakota Krout, author of the Divine Dungeon and the Completionist Chronicles
---
---
Shadowcroft: Academy of Dungeons Series
---
"Absolutely wonderful read. Wildly imaginative, relatable characters, gripping, funny, twisty plotting. Can't wait for the sequel!"
-Amazon Reviewer
---
---
Yancy Lazarus Series
---
"Move over Harry Dresden because there's a new wizard in town. Yancy Lazarus, a chain-smoking, take no prisoners S.O.B. with a heart of gold and a fistful of primal power. A stellar debut novel from James Hunter, the next big name in Urban Fantasy."
Rick Gualtieri, Author of Bill the Vampire (The Tome of Bill)
---
---
I USE AMAZON ASSOCIATES IN MY LINKS. THANK YOU FOR YOUR SUPPORT.