S R Witt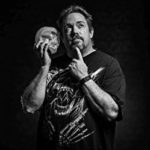 Hey there!
I've been a lifelong and avid reader of fantasy and cyberpunk stories of all stripes, and a dedicated gamer (both tabletop and digital) for almost as long. I've written all kinds of fiction over the years, from sword and sorcery to gritty horror, and I've been lucky enough to design expansions and supplements for tons of RPGs, from Dungeons & Dragons to Vampire: The Masquerade to the Game of Thrones RPG.
Dragon Web Online is my first series fusing my genre and gaming passions into the delightful stew known as LitRPG. This new and growing style allows me to tell fantastic stories that bring together swords and magic and virtual reality on a gaming backdrop that is truly unlike any other genre you'll read.
If you're a fan of Ready Player One, The Land, Awaken Online, or The Game, you're going to love the best-selling Dragon Web Online Series.
The Imperial Initiative Book 1