Aaron Michael Ritchey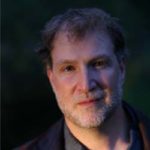 Aaron Michael Ritchey is the author of seven young adult novels and his short fiction has appeared in various anthologies and online magazines. In 2012, his first novel, The Never Prayer, was a finalist in the Rocky Mountain Fiction Writers Gold Conference. In 2015, his second novel, Long Live the Suicide King, won the Building the Dream award for best YA novel, and he spent the summer as the Artist in Residence at the Anythink Library. His G.I. Joe inspired novella was an Amazon bestseller in Kindle Worlds and his steampunk story, "The Dirges of Percival Lewand" was part of The Best of Penny Dread Tales anthology published through Kevin J. Anderson's WordFire Press. His epic YA sci-fi western series, The Juniper Wars, is available now. Aaron lives in Colorado with his wife and two goddesses of chaos posing as his daughters.
He's spoken at writing conferences and sci-fi/fantasy conventions across the U.S., but you can always find him giving workshops at the Pikes Peak Writers Conference, RMFW Gold Conference, and the Colorado Teen Lit Conference.
For more about him, his books, and how to overcome artistic angst, visit www.aaronmritchey.com. He's on Facebook as Aaron Michael Ritchey and he tweets – @aaronmritchey.